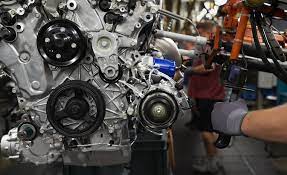 Transmission and Car Services for Greensboro, High Point, Oak Ridge, Kernersville, NC & the Surrounding Area
The engine is the powerhouse of your vehicle and it should be treated as so! This means having engine checks done when needed and engine repairs right away. If you live in the Browns Summit, Greensboro, High Point, Oak Ridge, Kernersville, or Summerfield, NC area, there is one shop you should visit for all your engine needs; East Coast Transmissions.
We have been providing comprehensive engine checks and repairs to our community since 1995. This means we have developed a keen eye to spotting problems with your engine, as well as being able to perform prompt repairs! The next you need an engine check completed or engine repairs you can rely on, call the technicians at East Coast Transmissions. We look forward to seeing you and your vehicle soon!
The Importance of Engine Checks
Without a properly working engine, your vehicle simply can not run how it should. Because of this, it is important to have routine engine checks done when you suspect there is a problem. Here is why it is so important to not put off engine checks until it is too late:
Catch costly problems early: Just like going to the doctor regularly, you can catch problems early on so they do not develop into something more serious. The same goes for your engine! An engine check provides an opportunity to identify issues and rectify them before costly damage occurs.


Important information for selling or buying a car: If you plan on selling your vehicle, it is important that you have an engine check done. This can help to identify issues that you were not aware about and collect comprehensive data on the status of your vehicle. The same goes for buying a car, you want to be sure that there are no problems with the engine so you know if the vehicle is worth purchasing.


Keep your vehicles running great: One of the biggest benefits of routine engine checks is that you can expect your vehicle to run optimally, for longer. This means less problems down the road and more time enjoying your ride!
Contact Us Today to Schedule Engine Repairs!
The team of technicians at East Coast Transmissions is standing by to provide you with the engine repairs and checks you need. We proudly welcome drivers from Browns Summit, Greensboro, High Point, Oak Ridge, Kernersville, Summerfield, NC and all of the surrounding areas! Get in touch with our shop today to schedule important engine repairs that your vehicle needs.
Can't bring your vehicle in?
Be sure to ask about our towing service! Financing and nationwide three and five-year warranties are available." Contact the certified technicians at East Coast Transmissions for all your transmission and engine repair needs. Based in Greensboro, we are proud to assist drivers throughout High Point, Oak Ridge, Kernersville, Summerfield, Browns Summit, NC, and the surrounding areas.